Joining a Trade Organisation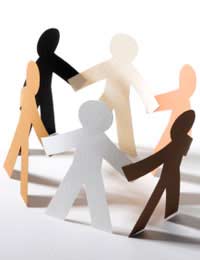 Running a small business can frequently be a fairly lonely experience. On a day-to-day business you may well be dealing with clients or employees, but it is easy to feel separated from the industry to which you belong. This can be particularly true of a photography business; in such an atomised industry, many small businesses feel disconnected from those doing similar things. Joining a trade association is, amongst other things, one way to combat this.
What is a Trade Association?
Trade associations, sometimes referred to as 'industry trade groups', are umbrella organisations made up of businesses working in the same field. They draw their entire membership from these businesses, and are generally funded exclusively by their members. The majority are not profit-making organisations and, while each performs a range of different functions, most offer similar membership benefits. These include opportunities for networking between businesses; collective advertising to increase public awareness of the sector; and political lobbying to improve the conditions in which the members operate.
Trade associations exist on a number of levels. Within the photography business there are associations to which any photography-related businesses may belong, along with more specialist associations, for example aimed at businesses specialising in wedding photography or fine art photography. Furthermore, some associations are open only to businesses, while others accept applications from freelance photographers. The British Institute of Professional Photography, for example, is open to photographers of any discipline, whether they are employed full or part time.
Benefits of Membership
There are a number of important benefits associated with joining a reputable photography trade association. As has been mentioned, the opportunity to network with other professionals is invaluable. This is frequently the most effective way to learn new business practices, and to share your own knowledge. While you may well be competing with others in the field, you should not necessarily barricade your business away from the rest of the industry. Rather, the sharing of knowledge should be mutually beneficial. Furthermore, one of the major aims of most trade associations is the standardisation of their respective industry, which is benefit to all involved.
Joining a trade association can also be immediately commercially beneficial. Many potential clients are reassured to see the mark of a trade association attached to the name of a business, as they consider it to demonstrate adherence to a code of good practice. Indeed, this is frequently the case; many associations require their members to operate in certain ways in order to continue to qualify for membership. On a more tangible level, some of the larger associations (including, for example, the Royal Photographic Society) offer bursaries to members, although the competition for these is obviously fierce. Finally, many associations offer courses and qualifications to further your knowledge and ability in specific fields.
If you are considering joining a trade association, it is important that you work out which is the most suitable for your business. You should decide, for example, whether you wish to join a general association or a group that only accepts members operating within a certain discipline – or both. Membership can also represent a significant financial outlay; it is therefore important that you are aware of the benefits that your membership will buy, and that you make an informed decision accordingly.
You might also like...