What is B2B?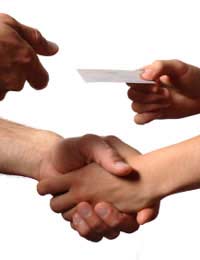 As has been underlined several times within this site, sales are the lifeblood of any business. Without the income derived from sales, most organisations simply cannot continue to trade. As such, the importance of sales cannot be over-estimated. Why, therefore, would you place limits on who your business can and cannot sell to? If the nature of your organisation allows, you may consider B2B as a method by which you can expand your customer base.
Definition
B2B is a term used to describe 'business to business' commercial interaction; that is, deals done between two businesses. This is distinct from so-called B2C, or business to customer, which is the most common form of commerce amongst small businesses. The principles governing the process of B2B interaction are distinct from those by which the process of business to customer commerce takes place. Clearly, the way in which you interact with other businesses will be different to the sales process that you follow when dealing with private customers. In the first instance, business to business sales are likely to be of a higher volume; similarly, if you are providing services on a B2B basis, your clients may well require a more personalised, tailor-made solution.
It should be noted from the outset that the term B2B does not necessarily specifically denote sales. Rather, B2B is frequently used to describe other forms of interaction between businesses. For example, B2B could describe marketing aimed at other businesses, for example to generate trade leads or attract manufacturers and wholesalers. As such, the concept of B2B covers any interaction between your business and any other commercial organisation, regardless of the nature of that interaction.
High Volume Sales
B2B can be a particularly efficient area of sales, as the volume per transaction tends to be much higher. If you provide photographic goods, B2B sales are likely to differ from sales direct to customer, as you may well be providing components, or a number of individual materials, rather than the finished product that you would normally deliver to a private consumer. Furthermore, business clients tend to buy in bulk, meaning that one transaction is likely to be of considerable value.
When looking to develop B2B sales, the first step is to attempt to garner some trade leads. As with sales to private customers, you must first make your business visible to potential clients; this involves B2B marketing on some level, be that in trade publications or through direct contact (for example cold calling). The sales process will then follow a similar framework to that of private sales, but is likely to be more extensive; for example, the process of identifying the client's needs and proposing a solution will take up considerably more time. The higher value of each sale tends to make this extra work worthwhile, however, particularly as many businesses prefer to use a single manufacturer or wholesaler for all of their related needs. As such, B2B sales tend to result in repeat business.
B2B is a potentially lucrative area, and you should ensure that you have efficient sales and lead management processes established before you begin. You should also bear in mind that payment terms tend to be different for business clients; as such, you should be prepared to offer credit to clients, and to receive payment within 30 days of rendering services, rather than in advance.
You might also like...