Lighting Equipment: What Do I Need?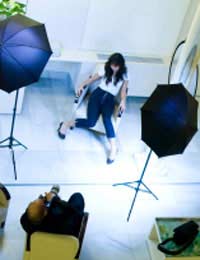 Lighting is a vital part of any good photograph. While reportage photographers must concentrate on finding the right light wherever they are shooting, studio snappers need the expertise to set up their lighting rig in a way that will achieve the desired effect.
If you plan to work in a studio, for example for portrait shots or still life images, you will require some sort of lighting set-up. The size and complexity of this rig will, of course, depend on the nature of your work – and on your budget. But there are a few key elements that you need to get right if you are to ensure that your images are up to scratch.
Studio work
The studio is the ideal environment in which to perfect your lighting. While you may well struggle with natural light, in the studio you can tweak to your heart's content. If you are relatively inexperienced, you should consider starting with a basic rig. This is likely to include two lights, a soft box or umbrella, and a reflector. Let's break that down:
Lights. It is perfectly possible to shoot with a single light and achieve good results. In order to minimise shadows, though, you should consider two lights. The first is your 'key light', used to illuminate the subject. The second can be used as a back light, to produce a more three-dimensional image, or as a fill light to reduce shadows.
Soft box or umbrella. These 'modifiers' are used to soften and direct the light. Using an unadulterated bulb will result in a harsh, unflattering light that is unsuitable for most purposes. In order to combat this, the light is passed through a soft box or reflected by an umbrella. Soft boxes provide a more diffuse, complex light, but umbrellas can be significantly cheaper.
Reflector. These are particularly useful if you want another way of diffusing or directing the light, or if you want to incorporate natural light into your shots. They come in a wide variety of sizes.
There are several firms offering 'entry-level' lighting kits. Portastudio, now made by Jessops, produce very low-cost lighting rigs that come in various configurations. You can add to these at a later date if you wish. You should remember, though, that some manufacturers use their own bulbs or power supplies; check this before taking the plunge, as being stuck with a specialist bulb type could cost you in the long run.
Out and about
Lighting is, of course, still vitally important when you are outside the studio. If you want to perfect your shots using natural light, you might want to consider purchasing reflectors to give you extra control. In particularly bright conditions you might also wish to fit a small guard above your lens in order to prevent flare. These can be made from white cardboard.
Trial and error is the best way to perfect your lighting techniques. But, if you are still at a loss, you might want to think about taking a short course to help you get to grips with the basic concepts at work. Courses of this kind are available across the country at a range of prices.
You might also like...