Is My Business Franchisable?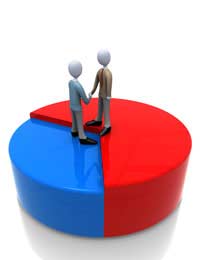 Franchising is becoming an ever more popular business pursuit. One of the side effects of the recession has been the creation of a pool of individuals, recently made redundant from high-paying jobs, with large redundancy payments or existing savings. These individuals frequently cannot find suitable full-time employment, so they are looking to set up on their own. As such, purchases of franchises are on the rise.
Franchising Basics
Franchising involves one party, the franchisor, permitting other parties (the franchisees) to sell products or services under the franchisor's brand or trademark. In return for this the franchisor receives a percentage of the franchisee's revenue and, in some circumstances, a regular royalty payment. Amongst the most recognisable franchises on the British high street are Subway, the sandwich retailer, and many pubs.
Franchising your business can be a very lucrative opportunity; the success of Snappy Snaps, a popular photography franchise, is testament to this. However, you must first ascertain whether or not your business is franchisable.
Track Record
In the first instance, your business must represent a viable opportunity for potential franchisees. You should have a proven track record of success, and a credible method of replicating this across a number of outlets. As such, franchising is not suitable for businesses in the first phases of start-up. Your own management experience will be an important aspect of this appraisal; if you can carve a name for yourself as the head of a reputable management team in your local area, backed up by sales success and, for example, coverage in your local press.
Your business model must also be easy to understand, and therefore easy for franchisees to pick up. Any unique or intrinsic systems should already be in place and easy to replicate. For example, if you are considering franchising a photo development business, the development process itself must be established and easily reproduced. You should be able to prepare comprehensive manuals and training sheets for franchisees, remembering that it is in your interests that they understand the systems and can be successful.
Recognisable and Profitable
It is also important that your business is identifiable, and sufficiently well differentiated from its competitors. There should be a reason for your potential franchisees to choose a franchise over setting up their own business; the most likely reason for this is that you have a recognisable brand that will, in itself, act as a draw for customers. This is one of the key elements for which the franchisee will pay, as it allows them to circumvent the necessity for a lengthy business development process.
Finally, it is absolutely vital that your business is capable of providing your franchisees with a viable revenue stream. Once your fees have been deducted, each individual franchise should be able to provide a return on investment for your franchisees of at least 15% if you are to keep them happy – and, indeed, if you are to prevent them setting up on their own.
Franchising your business could be a lucrative proposition. However, it is important that you consider the suitability of your business model before taking the leap.
You might also like...