Perfecting My Editing Workflow Transformed My Business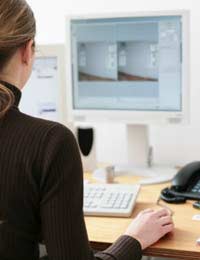 Running a business is not just about doing what you do as well as you can. It is also about doing it efficiently and effectively – in a way that maximises results while minimising time and resource demands. Photography businesses are no different.
An efficient workflow can help ensure that you work to the best of your abilities, in as time-efficient a manner as possible. As a result, you can take on more work – or improve your work-life balance by spending less time in front of the computer.
We spoke to London-based portrait photographer Richard, who after a year in business, finally discovered the importance of a properly considered editing workflow.
Standard set-up
"I specialise mainly in headshots for actors," Richard told us. "I have a small studio, and clients tend to come to me rather than me visiting them.
"Because the actors need them for agents and trade publications, the shots tend to be pretty standard. They are black and white, normally against a plain backdrop, and with a basic three-point lighting set-up."
Shaky beginnings
During his first few months in business, Richard was still getting to grips with his set-up. "I use CS5, and have my camera hooked up so everything is automatically dumped into my laptop as I take it. So the import element of my workflow was pretty straightforward.
"But the actual editing was taking far longer than it should. I was processing individual shots, adjusting levels, sharpening and so on. The only thing that was automated was the watermarking, which I need to do while clients are deciding which shots they like.
"I eventually realised that I was spending far too much time editing, particularly because I was basically doing the same things over and over again.
"Initially, I started investigating the bulk editing facilities in Photoshop. But I didn't like the fact that I pretty much couldn't see what was happening to my images; I just needed to trust that it was working OK."
Repetitive tasks
Instead, Richard began to consider ways that he could perform the most commonly repeated tasks quickly, and with the minimum amount of effort.
"Photoshop has what are called 'Actions'. They are basically like macros. They allow you to set out the tasks that you repeat most often, and then they enable you to carry out those tasks really quickly.
"Basically, you record an action within Photoshop. So, say you know your lighting set-up is going to be the same throughout a few different photos. You can set your level adjustments once, and then you just click on that action and it will make the adjustment automatically for you.
"I now have a set of different actions for different lighting environments and locations within my studio. I would estimate this saves me about an hour per shoot in edit time – which is a massive improvement for me."
Workflow is a key part of any photographer's business. An inefficient workflow can cost you valuable time – and ultimately money. But with a bit of creative thought and a small time investment now, you can perfect a workflow that begins saving you resources immediately.
You might also like...