Wedding Photography Work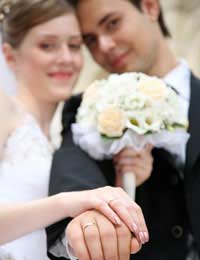 Wedding photography is frequently thought of as one of the safest, most lucrative photographic disciplines.
While it is certainly true that a number of wedding photographers make a decent living in this field, the difficulties of wedding photography are frequently understated; in reality, it is one of the most challenging types of photography, and wedding photographers certainly earn their money.
All portrait photography is, of course, about human contact and experience. However, this seems to be particularly true of wedding photography.
The wedding photographer is charged with recording some of the most memorable moments of their clients' lives and, as such, they have a responsibility to ensure that they reproduce the day in as interesting, attractive and unique way as possible. This is considerably more difficult than it might sound.
Basic Requirements
On a very basic level, a wedding photographer must have complete mastery of the technical aspects of photography. There are no studio lights to manipulate; instead, the photographer must be sure that they can adapt to the environmental conditions efficiently and quickly. Consistently pleasing a range of wedding clients requires comprehensive knowledge of the craft of photography. Similarly, a wedding photographer must be naturally creative; most clients want their wedding recorded in a unique way, and do not want to be presented with a package of generic images.
This requires an eye for detail and the ability to think on your feet. It should also be remembered that wedding photography is also partly about the management of people. It will be your responsibility to ensure that posed photographs can be effectively arranged, and this requires an ability to get on with people and to direct them efficiently and politely.
After the event, an excellent knowledge of the digital workflow process is also required. It is likely that you will need to retouch and correct your images. Colour management is particularly important here; images are likely to be shot in a number of different locations and, in order to present a consistent body of images to the wedding client, you will need to be familiar with a variety of digital manipulation techniques.
Business Sense
Wedding photography is a highly competitive field. As such, professional wedding photographers are required to be business minded. In order to survive you will need to be able to come up with unique marketing strategies, and be able to position yourself as a forward-thinking, approachable company with whom potential clients will want to work with. A brief look at the profiles of existing successful wedding photographers should give you some idea of what sells; it is those with a new and interesting take on the form that continue to thrive.
Potential wedding clients will, understandably, be keen to see evidence that you can deliver a high quality set of images. As such, you will require an excellent portfolio before you can begin to scout for business. A particularly effective way of doing this is to offer your services for free to couples planning their weddings. You may well have to work alongside a paid photographer, but this can be beneficial in itself; observing the techniques employed by those already making a living in the field should be valuable for your own business in the long run.
You might also like...
I want to become a wedding photophary
jadey
- 20-Mar-14 @ 1:47 PM
You have provided some very insightful information in to the world of wedding photography! Thank you for sharing!
Chris Kervin
- 10-Aug-12 @ 11:20 PM