Should I Lease Equipment?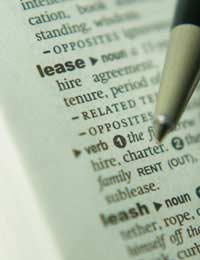 The initial costs involved in setting up a business can be significant. In starting a photography business, the likelihood is that you will be requiring some photography equipment; even if you are already working as a freelance photographer, it is likely that you will require some new equipment. Clearly, buying professional photography equipment can be expensive. This can significantly add to your initial one-off costs, which may already include things like the costs of incorporation, accountants' fees, and so on. Most start-ups are strapped for cash from the outset, and will therefore be looking for ways in which they can lower their initial costs. Leasing equipment is one way to achieve this.
Capital Concerns
Leasing equipment is becoming an increasingly popular choice for start-up companies. A common feature of these businesses is a lack of liquid capital; while you might have assets, for example in accounts receivable or stock, buying equipment might be impossible as you may lack the cash to do so. However, having the necessary photography equipment is important, as it will obviously determine whether or not you are able to do your job. As such, there are many companies who will offer leasing agreements on equipment.
Leasing can work in a number of different ways. The most common agreement by which a business can lease equipment is similar to a rental. The leasing company will provide use and control of the equipment to you, for a regular set fee. This is normally paid monthly, and will be related to the value of the equipment itself. The period of the lease will be negotiable, but will again depend on the value of the equipment; regardless of this, most leasing companies will not offer a lease of less than three months.
Depending on your agreement, you may then be given the opportunity to buy the equipment outright at the end of your lease. Until this point, however, the equipment remains under the ownership of the leasing company, or their client if they are an intermediary.
Advantages and Disadvantages
There are a number of clear advantages to securing equipment in this way. In the first instance, it means that you do not require a large lump of capital in order to get the photography equipment that you need. Similarly, most leasing companies will allow you to return the equipment and upgrade when it suits you. This means that you will not be saddled with obsolete equipment in the event of upgrades or technological advances. There are also longer-term financial advantages relating to the depreciation in value of the equipment. If you buy a computer, for example, it will have lost a significant proportion of its value in five years' time. If you lease, you do not need to worry about your business assets losing their value.
On the other hand, there are circumstances in which leasing is not appropriate. Generally, businesses lease equipment that depreciates, while they buy items that appreciate. In the latter case, you will have the use of the equipment and the value of the asset will constantly rise. Similarly, leasing is not suitable for all businesses. In the first instance, most leasing companies will require you to have filed at least one set of company accounts before they will offer you finance. Furthermore, if your personal or business credit rating is poor, you are unlikely to be granted a lease. For further information on this aspect of leasing, you may wish to read the article entitled 'Prerequisites for gaining credit', available elsewhere on this site.
You might also like...