Top Five Tips for Success in Recession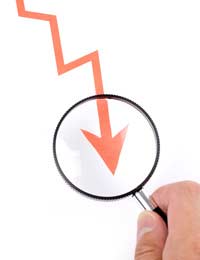 The recession is now well and truly upon us. Without doubt, the effects of this downturn are far-reaching and will continue to be so; thousands of jobs are being lost every week and many companies are buckling under the combined pressures of low consumer spending, rising costs and a contraction of credit.
From watching news coverage of the recession you could be forgiven for thinking that it is the greatest disaster ever to engulf mankind. Of course, this is not the case. While the downturn will make for a very difficult 2009 for a great many people, it also presents significant opportunities for those with the guts and insight to take advantage of them. Our top five tips should help guide you and your photography business towards success in the recession.
1. Make Contingency Plans
In the first instance, it is vital to remember that predicting the impending behaviour of the economy is currently very difficult. Many very successful people have lost many billions of pounds trying to do so – it is probably better that you don't follow in their footsteps. During such uncertain times, you must always be prepared for the worst. As a small business, this involves setting up an emergency cash fund.
Ideally you should have three months' worth of running costs in your emergency cash fund. You will probably have to build this up over time, so you should ensure that your cashflow forecasts account for contributions to this fund.
2. Ramp Up your Marketing
There is a huge range of marketing activities that you can carry out for free, or for negligible cost. Concentrate on your search engine placements for your key search terms ('photography business', and so on), and consider forming partnerships with other local businesses. Most companies cut back their marketing spend when times get tough. However, consumers are still spending, albeit at a lower rate – as such, there are opportunities to be seized. With a cost-effective marketing drive you can convert these opportunities into sales.
3. Change With the Times
Ostentatious advertising and show-off luxury are decidedly out of fashion at the moment. You must ensure that the public persona of your business is in line with this. Stress the lasting, timeless nature of photographs – people are more interested in value for money than glitzy ephemera in the current climate.
4. Cut Costs where Possible
It is worth remembering that, as consumer spending is falling, so too are the prices being charged by suppliers. You will have a number of regular expenditures necessary in order to keep your business ticking over. Try renegotiating these expenditures with your suppliers; it is likely that they will be more interested in holding on to a customer than holding on to their margins.
5. Be Prepared for the Upturn
The recession will not last forever. Indeed, some analysts are suggesting that we are already over the worst. As a small business owner you should ensure that you are well placed to deal with the challenges and opportunities that the economic recovery will bring. If you have expansion plans, finalise them now – and make sure that you keep putting cash aside for the inevitable cost of growing your business.
Despite appearances, a recession can be a fantastic time to start a photography business. As long as you concentrate first and foremost on your financial stability, there is no reason why you cannot take advantage of the niches being left by the collapse of other photography businesses – and, in the longer term, place yourself on a firm footing to take advantage of the eventual upturn.
You might also like...