Carbon Footprints and Your Business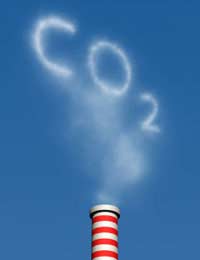 Climate change and the environment is one of the key political issues of our time. It is particularly notable in that it has captured the imagination of the public at large; it is no longer a niche concern.
This has spilt over into the marketplace, with an increasing number of customers preferring to deal only with green businesses. Making an effort to reduce your carbon footprint has numerous benefits. In the first instance, it provides your business with what is still a fairly unusual selling point, and point of recognition amongst potential customers. Furthermore, a reduction of your carbon footprint may well be contingent upon a reduction of energy use – and this is likely to save your business money.
Carbon Calculators
Your business's total carbon footprint will depend upon a number of factors. The Carbon Trust, a government-funded organisation working to reduce CO2 emissions, provides a 'carbon footprint indicator', which estimates a carbon footprint based on the size of a business and the sector in which it works. This is, however, imprecise; in order to get an accurate view of your company's impact on the environment, you should consider using a tool like a carbon footprint calculator.
These calculators make use of data regarding your total energy usage (broken down into things like electricity and gas bills, vehicle usage and so on) to provide a more comprehensive account of your carbon footprint. The calculator then gives a figure in tons, representing your total CO2 output over the course of a year. Larger businesses (those with a total energy bill of £50,000 or more per year) also qualify for a free carbon audit from the Carbon Trust. During this process a Carbon Trust employee will visit your premises to complete a more exhaustive survey of your business, and provide you with ways in which you can become more 'green'.
Methods
There are a number of ways in which you can reduce your carbon footprint. As has been mentioned, one of the most obvious is to reduce your energy usage. This could be achieved through basic measures such as turning off all lighting and appliances at the end of each working day, or trying to cut back your travel. In many cases, however, this simply isn't practical. Furthermore, these measures will only reduce your carbon footprint to a certain extent.
You may also wish to consider attempting to 'carbon neutralise' your business. Under these schemes, organisations like The CarbonNeutral Company will plant trees that will take in as much CO2 as your business produces. There are also ways, such as recycling, in which you can make your business greener that do not necessarily have a direct impact on your carbon output. Recycling is now compulsory in some boroughs; in any case, your local council should be able to give you advice on recycling and, indeed, other green issues.
Clearly, reducing your business's carbon footprint has a cost. However, many businesses who have made the transition to a carbon neutral position have found that, with effective marketing, they have become more attractive to clients and the costs of neutralising have therefore been offset.
You might also like...