Basic Principles of a Good Website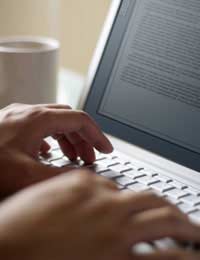 Your website is amongst the most important tools at your disposal as a new business owner. In the first instance, if sufficient thought is given to design and content, your website can be the most valuable form of advertising money can buy – and, indeed, web design and hosting are not expensive. Furthermore, a well thought out website can provide the impetus for business expansion into new online areas, and can save time and money by performing some of the tasks that would otherwise be performed by staff members. However, in order to fulfil its potential, a website must adhere to some of the most basic principles of web design.
Web Standards
In the first instance, it should be remembered that above all your website must be accessible. It doesn't matter how pretty it is if a sizeable proportion of your target audience can't actually view it. There are a number of web standards, as outlined by the World Wide Web Consortium (W3C), that should be adhered to. Browsers are increasingly designed with web standards in mind, and adherence to things like valid CSS and valid XHTML will help to ensure that your website is fully accessible, simple to use, and simple for browsers to understand.. You should also remember that your website should have cross-browser support; if you are only testing your website in Internet Explorer, for example, you are likely to find that it doesn't look as you expect in Opera or Safari. Furthermore, it is important to bear in mind the potential impact of Google's Chrome browser, which recently launched at the beta stage. Chrome has introduced new elements that may well become web standards in their own right, so it is worth becoming familiar with these at the earliest possible stage.
Brand Cohesion
When looking at web design, it is important to remember that your website should fit in with the rest of your advertising, and your brand identity as a whole. If your print advertising is significantly different in style or tone to your website, customers are likely to be confused and put off by the mixed message. As such, there should be continuity across all media. That said, a website is an excellent place for businesses to expand on the brief information offered in their other advertising. While continuing to offer potential customers them main selling points of your business in easily digestible form, you should not be afraid to be more verbose in other areas of your site.
Content
It should also be remembered that, rather than being a static advertisement, your website should be viewed as a constantly evolving entity. Potential customers will only be motivated to revisit or recommend your website if there is frequently updated and engaging content and information available. This can be achieved in a number of ways; some businesses regularly add news stories containing information relating to their business or industry, for example. Particularly effective is offering a series of offers available only to those who register their interest online. For example, you might offer discounts on certain products, with a new discount each month. The key principle, however, is that engaging content is vital for a successful, high-traffic website.
You might also like...