Web Hosting for your Photography Business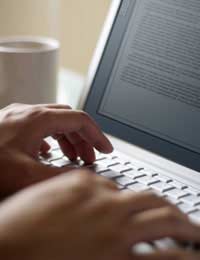 As is discussed in an article elsewhere in this section, a website is essential for any photography business. In many cases it will act as your first point of contact with customers and, with a good digital marketing strategy and Search Engine Optimisation (also discussed elsewhere), it can also provide an invaluable advertising platform. However, once your website has been lovingly crafted, either by you or by a web design business, you will need a way of actually getting it onto the web. This is where web hosting comes in.
Shared Hosting
Web hosting services provide a means by which your website can be accessed via the internet by members of the public, as opposed to existing solely on the hard drive of your computer. Web hosting companies operate in a number of different ways. Most small business websites run on shared hosting platforms. This means that you would lease a section of a server somewhere in the world, from which your website would be accessible. Any number of other websites may also be hosted on the same server. This poses some problems; some businesses run particularly server-intensive websites – average server load is increasing as, for example, companies move towards hosted Customer Relationship Management software and telecommunications handling. As such, websites on hosted servers may be subject to downtime if servers become overloaded. On the other hand, however, shared web hosting solutions are generally the cheapest option and require no initial outlay.
Dedicated Hosting
Another alternative is to invest in dedicated hosting. This means that you would lease or buy an entire server, and yours would be the only website hosted on that server. This solution has a number of significant benefits. In the first instance, you would be able to predict the server load with considerable accuracy, as you would know how server intensive your web presence was. Similarly, your business would be able to make technical decisions regarding things like the operating system on which the server runs. While this may seem far too technical to be relevant, if your business is to be mainly web-based you are likely to require some knowledge of server technology, or to employ someone who does.
There are a huge number of companies offering shared hosting solutions. It is tempting to simply choose the cheapest one, but you should think carefully about the web hosting provider that you go for. Amongst your primary concerns should be the location of their servers. The vast majority of budget web hosting providers do not actually own their own servers, but rather rent servers in huge 'data centers', normally based in the USA. This can mean that the response times for your website are considerably lower than if you chose web hosting based in the UK.
Storage and Bandwidth
Furthermore, it is important that you give due consideration to bandwidth and storage space. As a photography business, it is likely that you will require a large number of images to be hosted. As such, you will require a relatively large amount of storage space; the exact amount will depend on the nature of your website. Similarly, if people are actually going to view your images, you will require considerable monthly bandwidth allowances. It is worth paying for more bandwidth than you require, as most web hosting providers will shut down your site if you unexpectedly exceed your limit.
Choosing a web hosting provider can be a difficult process. There are, however, several comparison websites that should give an overview of the features offered by each. Consider the nature of your website and the facilities you need from a web hosting provider, and try using one of these sites to find a suitable provider.
You might also like...