Employing a Web Design Agency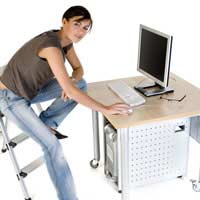 An effective website is amongst the most important tools that any business can have at their disposal. A website serves a number of different purposes; first and foremost, it is one of the most effective forms of advertising available to a new business, particularly if you have limited capital available. An attractive, accessible site will help to encourage potential clients to get in touch, and is vitally important for developing customer trust in your organisation. On other hand, a site that has given little or no thought to basic web design principles will put off potential customers almost immediately. The damaging capacity of poor web design cannot be over-estimated and, as such, many new business owners choose to employ a web design agency to develop an effective, attractive site.
Why Not DIY?
As web design software has become easier to use and more widely commercially available, an increasing number of new businesses have websites designed by a member of staff. This is not necessarily a bad thing; people have generally become more Internet literate in the past few years, and there are many individuals who are perfectly capable of performing this task. Furthermore, an individual so closely connected with the business is likely to have a better understanding of the organisation and its needs than would a web design agency. As such, if you feel confident in the basic principles of website design, the idea of doing it yourself should not be immediately discounted.
There are, however, a number of good reasons why employing a web design agency should be given serious consideration. In the first instance, establishing a new business is a highly labour intensive occupation and, as such, web design may well simply take up too much of your time. Employing a web design agency will free up this time and allow you to concentrate on other aspects of the business – possibly the aspects that you are better qualified to take on. Similarly, the costs of web design are falling all the time; engaging the services of a web design agency may well be cheaper than you think, with a basic site tailored for advertising purposes probably available for around £500.
Building a Brief
If you are considering employing an agency to take on your web design, it is vital that you give due consideration to a number of factors in advance. In the first instance, you should have a firm idea of the purpose of the site: is it to be used primarily as an advertising tool, or is it for existing customers to interact with the business? Furthermore, you should have a good idea of your own corporate identity before you begin; this will include a name and logo design, but will also encompass the 'feel' of the company – do you wish to appear friendly and approachable, or large and corporate? Both have advantages, and your choice will depend very much on the nature of your business. However, it is important that you can answer these questions before contacting an agency.
A web design agency will ideally want to see a brief for the project before offering you a quote. This need not be a complex document, but should outline the basic design elements that are to be included, as well as number and type of pages, and a description of the identity as discussed above. A good agency will then look at your brief and quote accordingly. You are likely to find that quotes vary wildly and, as such, it is important to get in touch with a number of different agencies.
As can be seen, employing a web design agency still entails a fairly significant amount of work. However, if you do the associated groundwork efficiently and in advance, you are more likely to get good results from your agency.
You might also like...