Efficient Workflow Processes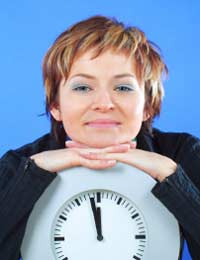 For a new business, terms like 'workflow' and 'time management' may seem completely irrelevant. This is particularly likely if the business consists basically of you; if you don't have a team of people working on a project, the likelihood is that you will have a good mental idea of the way in which that project should be executed yourself. However, workflow processes and time management skills can be of vital help, firstly in reducing your workload through eliminating unnecessary work, and secondly in helping you to identify problem areas, or 'stress points', in your project management policies. The onset of the digital age has made time management easier and more efficient, particularly for a new business; digital workflow and time management software can take much of the work out of this task, and produce very useful results.
Unless you have already been involved in a very similar line of work before, you new business is likely to spend some time at the outset simply working out the best way to do its job. There is no shame in this, as long as you are obviously competent enough to do a good job for your first customers or clients. However, it is from this early stage that time management, workload management and workflow processes are particularly important. As a first step, you should consider the type of work that will form the basis of your business. The likelihood is that most of your jobs will follow a very similar pattern in terms of the work that is to be done; to take a very basic example, a workflow process for a portrait photographer might involve identifying necessary equipment, finding a location, doing the shoot, post-production tasks, and finally developing. However, at each of these stages there will be a number of variables that will affect the next step and subsequent steps. Digital workflow software offers you the opportunity to map these processes in a visual way.
Techniques
Most digital workflow software uses a technique known as the Gantt Chart. This works on the basis that there are two types of task: parallel and sequential. Parallel tasks run at the same time as others, while sequential tasks run on their own at a time that is dependent upon the completion of previous tasks. A Gantt Chart will show all of the tasks that must be completed for a particular project, as well as the time at which they must be completed in relation to the other tasks. It will also show the duration of the task and, if relevant, which of the other tasks they are dependent upon. A Gantt Chart will appear as a linear chart of horizontal lines, each with explanations. These charts will be produced digitally in digital workflow management software, such as Microsoft Project.
It should be remembered that digital time management and workload management has applications aside from working out the best way to perform jobs. Rather, as a new business you may well find these techniques useful for working out the most efficient way to perform administrative tasks or, perhaps more importantly, to develop a strategy for long-term growth and development.
You might also like...