Reducing Overheads with VoIP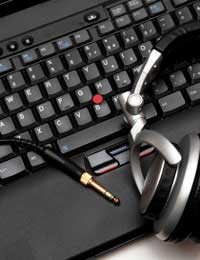 Far from being simply another medium for advertising, the Internet has presented businesses with a number of important opportunities for reducing their overheads. Curbing spending is a major consideration for any new business, and finances can typically be eased by moving much of a business's infrastructure online. One key way in which a business can reduce their overheads is by the use of Voice over Internet Protocol, or VoIP technology.
VoIP Basics
While VoIP is not a new technology, it is only really just beginning to make a serious impact on the market. On a basic, non-technical level, VoIP allows individuals to make voice calls using their computer and the Internet, rather than a traditional phone line. 'VoIP' actually describes the protocol used to make this possible, although it is commonly used to describe the service itself. Rather than using the traditional analogue telephone exchange, VoIP software encodes the voices of the speakers as digital signals, and then transfers these as 'packets' of information over the Internet. As such, it makes use of the existing bandwidth that you have available on your broadband line.
In a practical sense, VoIP calls work in much the same way as traditional communication. Users normally make use of a headset or USB telephone attached to a computer, which is in turn attached to an Internet connection. Some Internet providers are now offering VoIP solutions which include a telephone that is directly connected to the Internet through a 'hub', removing the necessity for a computer. Software such as Skype is then used to connect the user to a VoIP network; this might involve assigning a username or, in some circumstances, a 'dial-in' number.
Advantages
VoIP has a number of significant advantages. In terms of the reduction of overheads, the most obvious of these is that this type of call can be significantly cheaper than a regular BT phone call. Calling another VoIP user is normally free, while calling a UK or foreign landline from a VoIP phone is cheaper than using an analogue phone line.
Furthermore, there is frequently no line rental to be paid; the only recurring cost, aside from your phone calls, is the price of your broadband connection. Many businesses now provide VoIP usernames for other businesses or customers to get in touch; this saves them money, and saves you money.
Until fairly recently, while VoIP had been a promising idea, it had not really been practical for business applications. Today, however, many of the problems have been ironed out. In the first instance, improved data encoding techniques have meant that sound quality can now be virtually indistinguishable from a regular phone connection – and is frequently better. Furthermore, high quality USB phones are now available, meaning that staff members are not required to learn any new technologies at all.
This certainly eases problems with finances caused by the necessity to train staff. Finally, and perhaps most importantly, many VoIP providers are now offering 'dial-in' numbers, as mentioned above. This means that your customers can call a regular landline number and be connected to you via VoIP, all for the cost of a local call. As such, your business saves money, and you save your customers any confusion.
As can be seen, VoIP is an easy method by which businesses can potentially reduce their spending, but it also provides opportunities for streamlining administrative tasks. As such, it is certainly worth investigating.
You might also like...