A Day in the Life of a Professional Photographer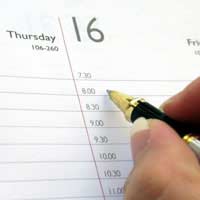 Professional photography can seem like a very attractive lifestyle. A professional freelance photographer has no employer to answer to, can (to a certain extent) choose their own hours, and can decide upon which jobs they take on and which they do not. This is all, clearly, in an ideal world. In reality, the professional photography business can be extraordinarily demanding, both financially and in terms of hours worked. Added to the existing difficulties of self-employment, this can pose some serious headaches.
That said, if you are dead set on becoming a professional photographer, then you may well find that you thrive on these things. Clearly there is no standard 'day in the life' of a professional photographer. However, this article should give you some idea of how an average day might pan out.
Morning
For many photographers who run their own business, the morning is likely to be spent answering emails and performing administrative tasks. This is, for most self-employed professional photographers, the downside of the business. This is likely to involve fielding enquiries from potential customers and clients, as well as corresponding with existing clients on the progress of their shoot. Furthermore, they will probably have to maintain their own website, so a couple of hours in the morning may be spent uploading recent images to an online portfolio, or submitting these images to agencies. If the photographer is really organised, they may also catch up on their book-keeping from the previous day.
Afternoon
Lunch is likely to be eaten either at the computer, or on the way to a shoot. The afternoon may see our photography professional taking on a shoot. If they have access to a professional studio then clients may come to them; alternatively, many freelance professional photographers prefer to travel to a place of the client's own choice. This reduces overheads for the photographer, and helps to ensure that the client is in a relaxed frame of mind.
The tasks for the afternoon will vary depending on the nature of the shoot; if it is a wedding shoot, the photographer will find that they spend the vast majority of their time organising guests and finding the bride and groom than they do actually pressing the shutter. If it is a straight-forward portrait shoot, there will be less organising to do but it may well take some time to produce a shot that the photographer is happy with.
Evening
Depending on the amount of work that the photographer has on, the evening may be spent either on another shoot or doing post-production tasks. In the latter case, the photographer will take the images from the day's shoot back to their office, and begin to work on digital editing and processing. This will make heavy use of professional (and frequently complex) image editing software. In order to meet the client's deadline, the photographer may well work until 1 or 2 in the morning, only to start again the following day.
As can be seen, the life of a professional photographer is certainly not for everyone. However, if you are passionate about the medium, and think that you could turn professional photography into a career, then there is absolutely no reason why you can't make it work.
You might also like...