Attracting New Customers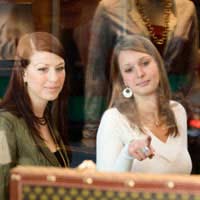 Customers are the foundation of any photography business. It is highly likely that your business will be primarily customer-facing, as opposed to business-to-business; this means that the bulk of your custom will come from the general public, as opposed to business clients. Attracting customers is both an art and a science, and depends in great part on an effective marketing and advertising strategy. However, while elements of these strategies might be aimed at long-term brand development, there are a number of techniques that you can use to encourage new custom and customers in the short term.
Business Visibility
Clearly, the first step is to ensure that potential customers know where to find your business. You must be highly visible to your target market. If yours is a shop-based retail business, this problem can in part be tackled by efficient placement of your premises. (You may wish to read the article elsewhere on this site regarding moving in to business premises for more information.) However, passing trade may well be insufficient to achieve the growth for which you are aiming. As such, you need to take a creative attitude to attracting new customers. Promotion of your business and services or products must occur in a way that distinguishes your organisation from your competition.
In some cases, you may be competing almost solely on prices. If this is the case, then you should look at developing a promotion strategy that offers a low price on goods or services that are likely to appeal to a broad customer base. For example, if you are a vendor of photographic equipment, a large percentage of your customers are likely to require staple consumables like lens cleaner, film, or, to a lesser extent, memory cards. Offering low prices on these items can encourage potential customers to investigate your business. A promotion of this sort has a double advantage; in the first instance it can encourage a spurt of new sales. More importantly, however, it enables you to develop a relationship and rapport with your customers. This helps to ensure repeat custom; once your new customers are satisfied with the level of service they are receiving, many will be happy to pay higher, non-promotion prices in future.
Competitions
You may also wish to consider slightly more esoteric promotion methods, such as running a competition. This is particularly effective for businesses that offer services rather than goods; if you are running a portrait photography business, for example, you may consider running a competition offering a free shoot. As with pricing promotions, this can aid with the development of a relationship with the competition winners, who are subsequently more likely to become customers.
There is a huge range of ways in which businesses can attract new customers, and in many cases the techniques used will depend on the nature of the business in question. As has been mentioned, however, a good marketing and advertising strategy should be of use in encouraging new custom – otherwise it is probably not working. As such, you may also find it useful to read the articles regarding marketing and advertising, which can be found elsewhere on this site.
You might also like...