Moving into Business Premises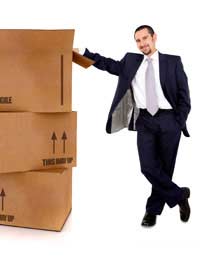 Many businesses begin with one individual in their bedroom. This is particularly true of organisations in the creative sector, such as photography businesses, which tend to start as a result of their founder's career as a freelancer. However, depending on the nature and rate of expansion of your organisation, you may find it necessary or beneficial to move into business premises. Moving is a big step, and there are a number of factors that should be considered before you take the plunge.
Meeting your Landlord
In the first instance, you should be aware that moving into business premises can be an expensive proposition. Even as housing prices have fallen, the commercial property market has remained fairly stable. As such, there may be some discrepancy between your current profits and the cost of business premises. From the outset, therefore, you should look at whether it is more suitable for you to rent or buy. Clearly, there are advantages and disadvantages associated with both options; for fairly obvious reasons, most businesses choose to rent business premises in their early years, while many continue to rent throughout their existence.
Renting has a number of advantages. In the first instance, rental agreements for business premises tend to be more flexible than those for residential property; the period of the lease is likely to be shorter, and you may be able to agree on rent-free periods or deferred payment, depending on the landlord. Furthermore, depending on your agreement, it may be that utilities and business rates are included in your rent. This means that you need pay only one bill, rather than many, thus freeing up valuable time to concentrate on other aspects of the business.
It is important that you have a good idea of the type of business premises that you require. Do you, for example, need an office or a studio? If you require an office, do you need a serviced or unserviced property? You will probably know the answer to these questions instinctively through a knowledge of the nature of your business, but you should also ensure that you choose business premises that allow your organisation to grow without the necessity for moving.
Agents
There are a huge number of agents offering to arrange leases for business premises, particularly in the larger cities around the country. However, while an agent can take much of the hassle out of finding a property, you may find that you can negotiate a better deal by dealing directly with private landlords. In either case, it is vitally important that you meet the landlord and not just the agent; you are likely to have to deal with the landlord on a regular basis, and it is important that you get on. A reputable commercial landlord will be able to show you their customer service charter; this document gives details of their responsibilities with regard to their properties, including aspects such as how quickly they will take action if things go wrong with the property.
Location is another key aspect to consider. Before moving you should think about transport links, and how easy it would be for your staff and yourself to travel to the property. Location is even more important if you are looking at renting shop space. Some photography businesses depend in great part on passing trade; if this describes your business, you should ensure that the property is in as visible a location as you can afford.
Finally, you should be prepared for costs to increase year on year. It is standard practice for commercial landlords to write annual percentage increases into their lease agreements. You should compare these increases to your turnover projections for the following year to ensure that you will continue to be able to afford your business premises.
You might also like...