Finding a Niche for Your Business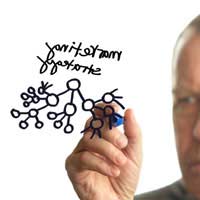 The photography business is a highly competitive one. The increasing availability of high quality photographic equipment at an affordable price has meant that a larger number of amateur photographers are making the jump into the professional arena.
In general, only those who are genuinely talented will survive financially. However, there are a large number of these individuals; as such, when setting up a photography business, it necessary to find a niche and present your business as unique.
In the first instance, you should give considerable thought to what it is that your photography business will actually be doing. This may be an easy decision, particularly if you already have experience in a certain field. If to date you have specialised in portraiture, for example, becoming a professional underwater photographer makes little sense.
Again, however, there are a vast number of portrait photographers; the market is saturated with reputable professionals doing just this, many of whom are established and have become leaders in their field. As such, finding a corner of the market to call your own requires some creative thinking.
Substance versus Marketing
Finding a niche in the market can happen in one of several ways. The first, and most obvious, is to establish an entirely new business model. Rather than replicating what others are doing, you should consider what you can offer that is new and unique.
In an extreme sense, this may be an entirely new service that has not yet been thought of; however, the likelihood of coming up with such a service by sitting down and trying to think of a new photographic business is slim. Rather, the process tends to happen in reverse – a business is established and based around an existing idea. If you have such an idea, and it is commercially viable, then your business has a very high chance of success.
Making a Virtue of Necessity
Most of us, however, have not come up with industry changing ideas – or, at least, not yet. In these cases, some creative thinking with regard to marketing is necessary. It is perfectly possible to present yourself as forward-thinking and unique, while still actually offering a very similar service to everyone else.
Think about your business: what are its salient characteristics? You should be considering ways in which you can present existing features of your business model as new and exciting. Concentrate on your limitations; perhaps counter-intuitively, these tend to be the areas that make for the best sales pitches. If you can turn these limitations into unique selling points, you stand to attract new custom as most photography businesses gloss over these areas.
Clearly, this part of setting up a business is less about photography than it is about marketing strategy. However, it should serve as a reminder that, in order to be successful in your chosen profession, you require more than talent at your craft. A creative mind and an ability to 'think outside the box' in all aspects of business is an absolute necessity; without this, your business runs a risk of floating in the sea of competitors, rather than bobbing to the surface.
You might also like...