Why Clear Business Objectives are Essential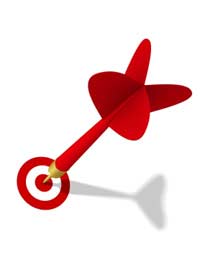 Efficient business planning is one of the most important keys to success. Firmly establishing your business objectives from the outset will ensure that you and your organisation do not waste time and resources frittering around the edges.
A clearly defined set of objectives and business goals will provide your photography business with a 'roadmap' for progress in its field.
After a cursory thought, your business objectives may appear clear: to make as much money as you can, for example. In order to provide the necessary framework around which your business practices are built, however, your goals need to be more tangible; you should be able to tell when you have achieved your business objectives.
Furthermore, you should not think of these targets as the end of the road; rather, they should be considered sign-posts, or stepping stones, that form a path through the continued evolution of your business.
SMART Targets
Project managers have been grappling with the idea of target setting for as long as there have been businesses. As such, there are no universally accepted methods to be used. However, one particularly useful formula for small businesses, or large businesses working on individual projects, is known as SMART targeting.
Imagine that you have decided upon a core number of business objectives that apply to your photography business. One of these might, for example, be to double your customer base within the next twelve months. Using the SMART method, we can evaluate the efficiency of this goal by using the constituent parts of the SMART acronym:
Is the goal Specific? Yes; the objective is clearly defined in numerical terms.
Is the goal Measurable? Yes; as long as you know the size of your current customer base, this is an easily measurable objective.
Is the goal Agreed Upon? Depending on the size of your organisation, you may need to consult with other partners; it is essential that everyone is sufficiently aware of the business objectives.
Is the goal Realistic? Clearly, this will depend on the nature of your business and your forecasts. Unrealistic targets should be avoided at all costs; failure is demoralising, and it is easy to waste resources on goals that are unattainable.
Is the goal Time-Based? Yes; it is important to have a time-scale within which the target is to be met. Open-ended targets have a tendency to yield fewer results and consume more resources.
Strategic Planning
Successful businesses tend to be those with a clear set of objectives, and clear strategies for achieving those objectives. As such, targets should always be accompanied by a plan detailing how those targets will be met. You may well realise in the planning stage that your target is not, in fact, realistic; if this is the case, it should be tweaked to make it attainable.
You may also wish to try out project management software such as Microsoft Project. These packages can provide invaluable assistance at every stage, from target-setting to completion; they can help you to track budgets and ensure that projects are on time. While this may seem unnecessary for a small photography business, it is worth investigating – you may well be surprised how beneficial it is to have all of the relevant information available to you instantly and visually.
You might also like...