The Sales Process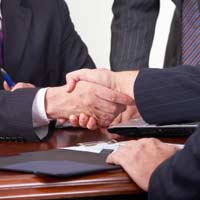 Sales is the key to the success of any business. Without sales you will not survive and, as such, it is important that the process of selling is finely tuned from the outset. Selling is amongst the most important talents that any business owner can have, but this talent must be honed and moulded to fit within an agreed process. Developing a standardised sales process will help to ensure that you can keep on top of your leads, and can ensure that you have a way to guide yourself through the time between generating a lead and closing a deal.
As sales is such an important part of your business, it makes sense to ensure that it is dealt with as systematically as possible. This process development has a number of significant advantages; in the first instance, it can clearly demonstrate where your weaknesses lie in terms of sales, as you will be able to see at which point the majority of sales fail. Furthermore, you will be able to offer a standard experience for all customers, which has a twofold benefit: your customers will be assured that they are receiving an excellent service every time, while your time costs will be lowered as you are not having to tailor a sales process to every client.
Lead Generation
Clearly, the details of the sales process will vary depending on the nature of your individual business. However, in most cases there are a number of basic steps that will provide the framework for your selling process. First amongst these is the generation of a lead. A lead is a potential customer who has expressed interest in dealing with your business, for example by responding to some of your promotion. At this stage, most sales practitioners would estimate that the chances of closing the deal are around 15%, regardless of whether or not the lead actively responded to your promotion.
Qualifying
The next stage is known as 'qualifying a prospect'. This step involves assessing the ability and likelihood of the lead to purchase. This might require data such as their financial position which, clearly, you will not have access to. As such, you will be required to make your own judgement. This is where direct interaction with the potential customer is useful, as you are more likely to be able to glean information by talking to them in person.
Identification
The next two steps involve identifying and meeting the needs of the lead. You should speak to the potential customer and ascertain exactly what they require from your goods or services, and whether or not you can fulfil these needs. After this stage you should put together a sales proposal for the individual; depending on the nature of your business this might be as formal as a written document, or as informal as a suggestion in your shop.
Closing
If the customer is happy with the proposal, you should then be aiming to close the sale. This stage involves an agreement between yourself and the potential customer regarding your provision of goods or services, followed by the exchange of money. It is important that you do not think of sales as closed until you actually have money in hand, as this is the stage at which the majority of sales seem to disintegrate.
There are numerous Customer Relationship Management solutions available to guide you through the sales process. You may wish to read the relevant articles elsewhere on this site for further information on these.
You might also like...