What is a Virtual Office?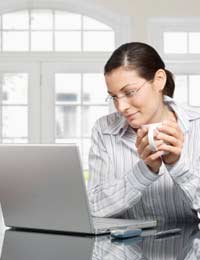 When setting up a business, there are a number of costs that must be considered from the outset. In the photographic industry, it is likely that you will incur significant costs acquiring the equipment that you need to run your business, as well as such things as advertising and software. Moving into business premises could quite easily double your monthly expenditure. A virtual office, however, can be cheap and flexible.
Technology and Business
The Internet has, of course, been a revolution in the business world. Through the growth of new technology it is now possible to give the impression that you are in one place when in fact you are somewhere else altogether. To give an example: there has been a recent growth in 'telephone answering' companies. These organisations will have a business number diverted to them, and will answer in the name of your business. They can then take a message or forward the call to you. This is illustrative of some of the services offered by virtual office companies.
The concept of the virtual office was born in the 1980s, and started as a network of 'staging posts' for travelling salesmen in America. Today, virtual offices can be found in all of the major cities in the world. Virtual office space is a flexible alternative to moving into traditional rented office; they can be hired on a month-by-month basis and they are entirely serviced, meaning that you simply walk in when you like and leave when you like without having to worry about cleaning, or paying the electricity bill.
Advantages
A great advantage of the virtual office for small businesses or sole traders is their ability to present your business as larger than it is. Virtual office space tends to be located in areas with 'prestigious' addresses; there are a large number in London's W1, for example. Similarly, many offer telephone answering services, as described above. This ensures firstly that your phone is always answered during offices hours, and secondly that a potential customer's first impression is of an efficient business with a number of staff. First impressions are vital in any business; from your website to your address, any inkling that this venture is being run from your bedroom is likely to discourage custom.
Other virtual office services may be offered by some providers. Many, for example, provide in-house legal or secretarial services to those using their virtual office space. This can be extremely useful as you have many of the administrative tools you require in the same building. This saves time and money, and ensures that you are free to take on work.
Clearly, virtual office services are particularly useful to sole traders who are frequently out of the office on jobs. They are less likely to be of use to a business which requires premises from which they can make sales; if you need a showroom, for example, then a virtual office is probably not for you. Some virtual office services, however, may still be useful; this is particularly true of telephone answering, or the website maintenance services that some virtual office providers offer.
You might also like...