Commissioning an Advertising Agency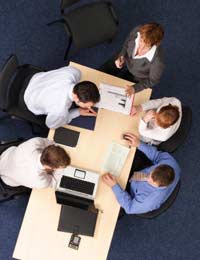 Advertising is vitally important for any business. Advertising places your organisation in the public eye and, on the most basic level, should increase your sales. However, advertising is particularly important for a new business; larger brands almost advertise themselves – think of the number of times you see a Coca Cola bottle each week, for example. Smaller or emerging businesses rely on good advertising to ensure that they can attract new custom. It is important that this is done properly and, as such, many choose to engage the services of an advertising agency.
Budget and Role
Using an advertising agency can be a difficult decision. In the first instance, it should be remembered that the costs associated with this are likely to be significant. Many business owners (and, predictably, many ad men) suggest that it is necessary to work with an advertising agency from the business's inception; they say that a good advertising agency will be able to help you formulate a long-term plan that will fit in with your own aims and goals. This can frequently stretch as far as naming your business or creating your logo and letterhead. A relationship of this type with an advertising agency can be invaluable. However, you need the capital available in the first place. Similarly, it should be remembered that you will not have any previous activity against which to judge the effectiveness of your advertising if you have employed an advertising agency from day one. While this may not be a problem if things are going well, most businesses wish to know exactly how much difference is being made to their turnover by advertising.
If advertising is a particular priority for your business, and you have the funds available to pay a salary, you may also consider employing a full time advertising professional to do the work in-house. This has a number of advantages; in the first instance, you will know that your organisation has that individual's full attention, and that their time will not be split between a number of projects. Similarly, over time that individual will develop a far better knowledge of your organisation than any third party would be able to. If you are considering this course of action, there are a number of web-based forums where freelance advertising and PR practitioners offer their services.
Choosing an Agency
If you are considering taking the more traditional route of commissioning an advertising agency, the choice can be baffling. It is worth remembering that commissioning a large advertising agency will not necessarily yield better results than going for a small or emerging company. The latter can frequently present more innovative and forward-thinking ideas, and you are more likely to receive a higher proportion of their attention. Regardless of the size of the agency, however, you should always ask to see a portfolio of recent work, and meet in advance to decide whether or not you will get on, on a personal level. Furthermore, it is always worth looking for membership of a trade organisation; the IPR and the PRCA are particularly reputable.
You might also like...