Monitoring the Success of Advertising Campaigns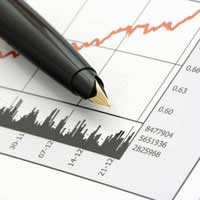 Advertising campaigns are potentially very costly. While it is vital for a new business to be visible to their potential clients, advertising is something that must be undertaken methodically rather than with a 'scatter-gun' approach. Similarly, it is important that the costs associated with advertising campaigns can be justified – and ultimately, this means an increase in sales. In order to judge the success of an advertising campaign, they must be efficiently monitored and your findings must be acted upon.
Online Advertising
The way in which you examine the success of your advertising campaigns will depend upon the nature of the advertising. It is increasingly common for a new business to focus almost solely on online advertising, for example through banner advertising or 'social advertising campaigns' on social networks like Facebook. There are a number of advantages associated with this type of advertising campaigns; in the first instance, the initial costs tend to be considerably lower than for print advertising, and it is possible to completely set your own budget. Online advertising of this type typically works on either a pay-per-click (PPC) or pay-per-impression (PPI) basis. As such, the ad provider will automatically record the number of times that your advert appears on someone's computer screen, as well as the number of times that someone clicks on it. Depending on the nature of your advertising campaign, you will then pay either each time it appears or each time it is clicked. Most ad providers will make this data available in a visual format, making it very easy to see how successful your advertising campaign is being. This data should also show at which times of the day and week your ad is most popular, meaning that you can tweak it accordingly.
Print Advertising
If you are concentrating on print advertising, monitoring the success of your advertising campaign will be more difficult. In the first instance, if your campaign does not have a set running time, you should allow it to run for sufficient time for an impact to be seen before you start examining its success. Ten weeks is normally thought of as an acceptable period. After this period is complete, you should then compare the number of leads and sales garnered during the period in which the advertising campaign was running to the number of leads and sales generated in the period before. It is worth noting at this point that, if there is a significant discrepancy between the number of leads and the number of sales, this is not necessarily a problem with your advertising campaign, but rather with your sales process.
Armed with comparative figures for leads and sales, you should then change a small number of variables in your advertising campaign; for example, try changing the position of the ad, or altering the copy slightly. Clearly, you will be able to get a better idea of what is and is not working by changing a very small number of aspects at a time. Over time, your new business will then have a far better idea of what makes a successful advertising campaign, in terms of style, copy, placement, and media. At this point you will begin to see a far higher ratio of returns on your advertising budget.
You might also like...