Making Digital Photo Prints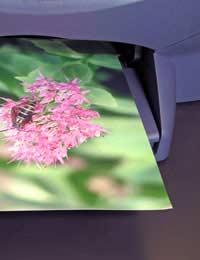 The photography business has, to all intents and purposes, now moved entirely into the digital realm. Traditional analogue equipment is now a novelty item to all but the most specialised photographers; most amateur and professional photographers have now migrated entirely towards digital. It is easy to forget, however, that digital photographs still frequently need to be printed. If your photography business is consumer-facing (that is, if you are producing work for members of the public), the likelihood is that you will need to produce prints from your digital photographs.
Third Party Developers
There are a number of ways in which digital prints can be produced. If you will be producing a relatively small number of prints from digital photographs, it may well make more sense to use a third party developer. There are a number of very reputable digital printing companies that can produce prints at relatively low cost. Many of these are based online and, as a result of their lower overheads, offer lower prices than those that you might be offered in a lab.
However, there are a number of significant downsides associated with having your printing done by one of these companies. In the first instance, there is little opportunity to give extra instruction regarding your prints; the choice tends to stretch no further than whether you want matt or gloss paper. Similarly, if the prints do not turn out to your satisfaction, there is no-one to whom you can personally explain the problem. As such, most professional photographers still prefer to use processing labs that they can physically visit. While professional labs are dwindling in number, it should not be difficult to find one in your local area. A good lab should be able to take precise direction regarding how you want your digital photographs to look in print.
DIY
If you need to produce a large number of prints of digital photographs, you may consider investing in your own printing equipment. A number of companies produce commercial digital printing solutions and, while expensive, these will pay for themselves over a period of time as the per-unit price will obviously be lower than that charged by a third party developer. The equipment you choose will obviously depend on the type of prints that you are producing; it may or may not be necessary for you to have a large-scale printer, for example.
It should be noted that it is general practice for the price charged by a photographer to be exclusive of prints. You may provide a client with a CD of the images, but it is rare for photographers to absorb the cost of prints in their fee. As such, it is important to give serious thought to the price you charge for prints, regardless of whether you are doing them yourself or contracting a third party to do your printing for you. Similarly, if you are considering purchasing your own equipment, you should spread the cost of this across a number of months, or perhaps even years. This will mean increasing your shoot and printing prices marginally on every job.
You might also like...